Introduction:
When fuel prices increase, a larger share of households' budgets is likely to be spent on it, which leaves less to spend on other goods and services. The same goes for businesses whose goods must be shipped from place to place or that use fuel as a major input.
According to the study, after fuel prices increase by 25% and the price of petroleum goods falls by 2.7 percent, aggregate real household consumption falls by 2.1 percent. The most affected are urban and high-income households, showing the reform's progressivity. 
As fuel prices increase, According to the country's finance minister, Pakistan's borrowing has been increased by 20% in order to keep getting loans from the International Monetary Fund under a $6 billion plan agreed upon in 2019.
The Washington-based fund met with Pakistani officials in Qatar earlier this month, highlighting policy deviations by Islamabad in the areas of fuel and subsidies, particularly in February. In order to minimize the budget deficit, the government must tighten monetary policy and consolidate its finances against a backdrop of rising inflation, which reached an annual rate of 13.4% in April, dwindling foreign currency reserves, a 7% unemployment rate, and a substantial current account deficit.
Fuel prices will rise on Friday, with the new petrol prices in Pakistan of petrol set at 179.86 rupees ($0.88) per liter and diesel at 174.15 rupees, according to finance minister Miftah Ismail.
Petrol price hikes:
According to a Pakistani source intimately involved in talks in Qatar, the IMF and Islamabad had struck an agreement to release over $900 million in funding after Pakistan reduced gasoline subsidies and increased prices.
"The agreement will be completed if the petrol price increases. We've hammered out the details of a deal "After the Doha discussions ended, the insider added in a text message.
The petrol price hike has been the primary point of contention between Pakistan and the IMF, as part of an agreement to decrease the fiscal deficit by withdrawing subsidies in the oil and electricity sectors before the annual budget is delivered next month.
In addition to the $900 million, if the IMF passes the seventh review as a consequence of the talks, it will open the door to additional external finance for the cash-strapped South Asian country, whose foreign reserves are just enough to cover two months of imports.
About half of the $6 billion deal's funds have yet to be released, and the IMF review has not yet been scheduled. The scheme, which had been proposed in 2019, was halted earlier this year after ousted Prime Minister Imran Khan cut and then froze fuel prices for four months, costing the government $600 million per month in subsidies.
Since taking power on April 11, Premier Sharif has deferred price increases three times, generating market fear over whether the government will be able to resume the IMF programmed.
The IMF's staff stressed the importance of "specific policy initiatives," including the removal of fuel and energy subsidies, as well as the fiscal year 2023 budget, to accomplish programmed targets, according to a statement released on May 25.
The remaining $3 billion from the loan program will be released if the program is successfully restarted. Pakistan has also asked the International Monetary Fund (IMF) to prolong its loan program for another year and increase the loan size by $2 billion.
Between July 2021 and February 2022, Pakistan's current account deficit grew to more than $12 billion, compared to a $1 billion surplus a year earlier.
If the IMF approves the seventh review, the country's foreign currency reserve shortage will be alleviated.
According to Reuters, Pakistan's foreign reserves are only enough to finance two months' worth of imports.
About half of the $6 billion deal's funds have yet to be released, and the timing of the IMF review is unknown.
According to IMF forecasts made in April before the country's downturn, Pakistan's economy is expected to grow by approximately 4% this year.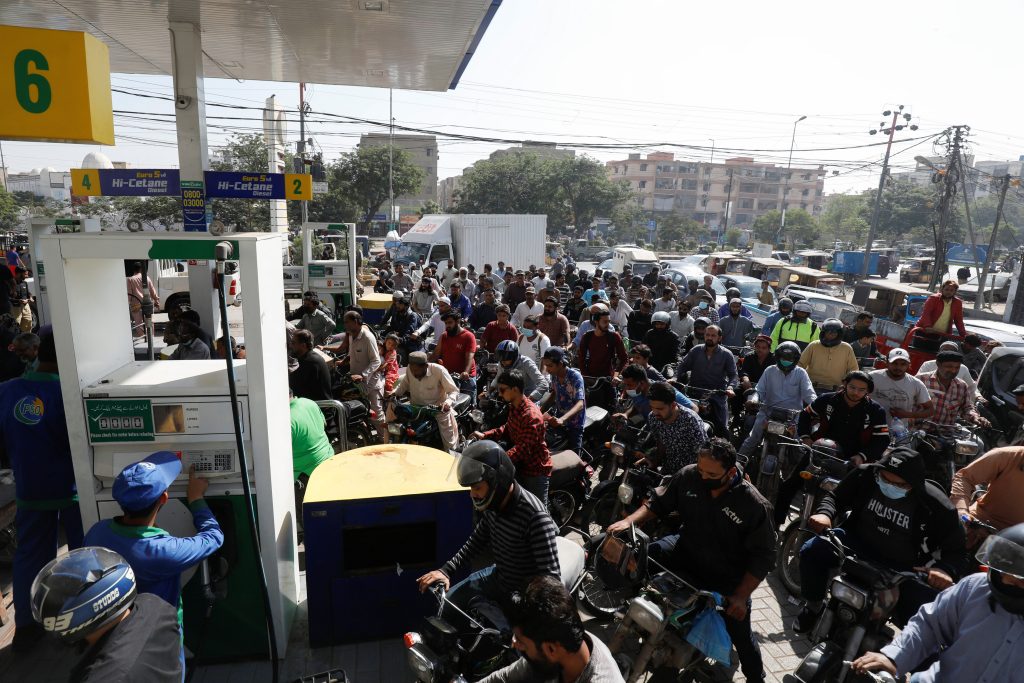 Effect of petrol price hike:
Petrol prices increase, meaning that each of us pays more at the pump, leaving less money to spend on other goods and services at the individual level. However, increasing gas prices have an impact on the larger economy in addition to the expense of filling up at the gas station.
Inversely, when gas prices decrease, it is less expensive for both consumers and companies to fill up the tank, which helps transportation-related industries like airplanes and truckers, but it hurts the domestic oil industry.
Higher oil costs are a drag on the economy in general. We'll look at some of the immediate and indirect effects of petrol price hike in this article.
Retailers:
Petrol price hikes have the unintended consequence of reducing consumer discretionary spending as they spend a greater proportion of their income on gasoline. With higher pricing, shoppers will be less likely to drive to areas like the mall or shopping complexes. Academic and industrial research back this up, demonstrating that driving miles are directly related to gas prices.
Public transportation:
Effects of petrol price hike may result in a notable increase in the use of public transportation. If petrol costs continue to rise, shared and public transportation may become more enticing as a more cost-effective option to sitting in traffic with pricey fuel in the tank.
Airlines:
The companies' fuel expenses and those associated with oil procurement are, on average, the highest operating costs for airlines. Fuel expenditures account for such a substantial amount of an airline's overhead that fluctuations in the price of oil have a significant impact on the airline's bottom line.
Auto industry:
Historically, the automobile industry has responded to rising gasoline prices by developing smaller, more fuel-efficient vehicles, such as hybrids and, more recently, all-electric vehicles that can drive up to 250 miles between charges.